.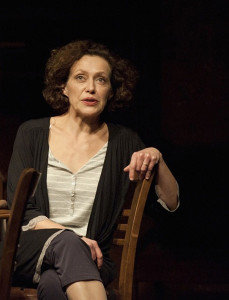 Karin has appeared in over fifty professional theatre productions. She has received numerous awards and nominations for lead roles in a wide range of musicals,  contemporary dramas and premieres of new works.
Memorable roles in classic musicals include, among many others, "Joanne" in Company, the "Beggar Woman" in Sweeney Todd, "Adelaide" in Guys and Dolls,  "Pirate Jenny" in The Threepenny Opera, "Woman One" in Jacques Brel is Alive and Well and Living in Paris, "Golde" in Fiddler on the Roof, "Dolly" in Hello, Dolly!, and "Anita" in West Side Story.
Roles in contemporary dramas include "Barbara" in August, Osage County, "Lilith" in K, "Roberta" in Danny and the Deep Blue Sea, "Doris" in The Stone Angel,  "Marlene" in Bordertown Café, and more.
Karin has especially enjoyed being involved in the award-winning world premieres of Canadian works, including Aaron Bushkowsky's Play With Monsters for the Solo Collective, James Long's A View From Above for Ruby Slippers Theatre, Conrad Alexandrowicz' Beggars Would Ride for Wild Excursions/PuSh Festival, Peter Hinton's 120 Songs for the Marquis de Sade for Modern Baroque Opera, Bryden Macdonald's Sincerely, A Friend (the songs of Leonard Cohen) for the Belfry Theatre, Camyar Chai's Opiate Karim for NeWorld Theatre, and Dorothy Dittrich's When We Were Singing for Touchstone Theatre.
She has designed choreography and sound for many more productions, both professionally and in a teaching capacity.
On mobile devices, tap images once for description, tap again for scroll through of photos.
iPad users may need to scroll up the page to see the display.