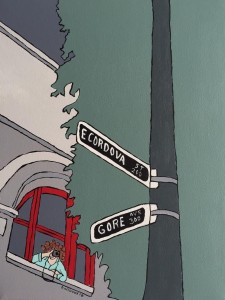 .
"Gore and Cordova" is currently on solo exhibit at the Firehall Arts Centre in Vancouver B.C., September 28 – October 28 2016
A celebration of individuality, and crossing the street.
"Gore and Cordova" is a body of work based on the goings-on at the intersection where the Firehall Arts Centre resides. Karin lovingly and playfully portrays the idiosyncrasies and characters she observes in this public space.
People Who Were Almost In the Paintings