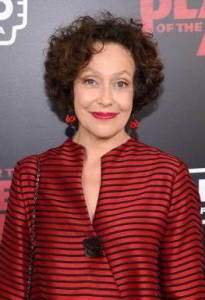 Bio
Karin has appeared in lead or supporting lead roles in the feature films Rise of the Planet of the Apes, Dawn of the Planet of the Apes, War for the Planet of the Apes, Step Up Five, The Movie Out Here, Black Christmas and Cable Beach (for which she received a Philip Borsos award).
Her television credits include recurring roles on the series Dirk Gently's Holistic Detective Agency, The Exorcist, Beyond, When Calls The Heart, Intruders, Tower Prep, Da Vinci's Inquest and Dead Zone, and guest starring roles on X Files, Lucifer, The Magicians, Travelers, Bates Motel, I Zombie, The Minority Report, Motive, Continuum, Backstrom, Supernatural and many more.
She has appeared in supporting lead roles in many television movies, including the mini-series Tin Man, Signed, Sealed, Delivered: The Impossible Dream, All That Glitters (a Garage Sale Mystery), Christmas Town, Anything But Christmas, Off Season, and others.
For a complete resume of screen credits, please see Karin Konoval on IMDB.
Reviews for Karin Konoval in Planet of the Apes
.
"Once again, Karin Konoval as Maurice is spectacular…." Ryan Scott, Movie Web
"Joined by Maurice (Karin Konoval, just as terrific as Serkis)…." Tomris Laffly, Film School Rejects
"…Karin Konoval once again being the standout as the benevolent, yet seasoned orangutan Maurice — a character who serves as both Caesar's confidante and conscience"  Sandy Schaefer, Screen Rant
"Particularly magnificent is Caesar's old orangutan buddy, Maurice, again played by Karin Konoval: Somewhere, Dr. Zaius is eating his heart out." The Atlantic
"Maurice the orangutan (Karin Konoval) is an audience favourite." Washington Post
"Karin Konoval brings an old-soul wisdom and sadness to the orangutan Maurice, giving him some of the movie's more affecting moments." Den Of Geek
"Karin Konoval's wise and calming Maurice is sublimely beautiful." Graffiti With Punctuation